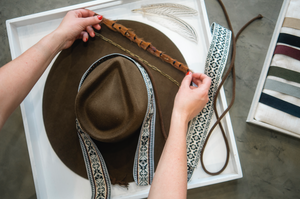 Custom Hat Fitting Appointment
Step into our exceptionally designed atelier in Brooklyn, NY for a one-of-a-kind custom hat making experience.
Custom hat fittings start at $229+ for Toquilla straw and $259+ for organic wool. Additional accessories, trim ribbons, and monograms are available on-site for an additional cost.
In most cases, custom hats can be designed and completed on-site so that our clients are able to walk away with their personalized masterpiece.
Please note that the showroom will be open to other customers during your appointment.
Individual Custom Hat Fitting Appointments include:
Perfect for parties of 1-2 people

1:1 Design consultation & fitting

Create & leave with your own custom hat same-day*

Complimentary beverage included (coffee, tea, wine)

Approx. 45 min per person

24 hour cancellation required

Deposit applied to order total