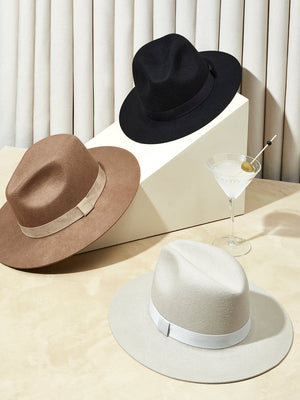 Private Events
Our most exclusive experience perfect for groups of 4-12 celebrating special events, life milestones, or corporate events. Showroom is closed to the public & private to only your party.
Custom hat fittings start at $229+ for Toquilla straw and $259+ for organic wool. Additional accessories, trim ribbons, and monograms are available on-site for an additional cost.
In most cases, custom hats can be designed and completed on-site so that our clients are able to walk away with their personalized masterpiece.
Email hello@heads-of-state.com to book. A $300 deposit is required for all private events.
Private Events include:
Dedicated staff throughout event entirety
1:1 Design consultation & fitting per person
Dedicated bar set-up for drinks & snacks
BYOB or choose from one of our bar + snack packages
Create & leave with your own custom hat same-day*
Deposit required & will be applied to total bill
Deposit is refundable up to 72 hours prior to event
4 hat minimum per private event